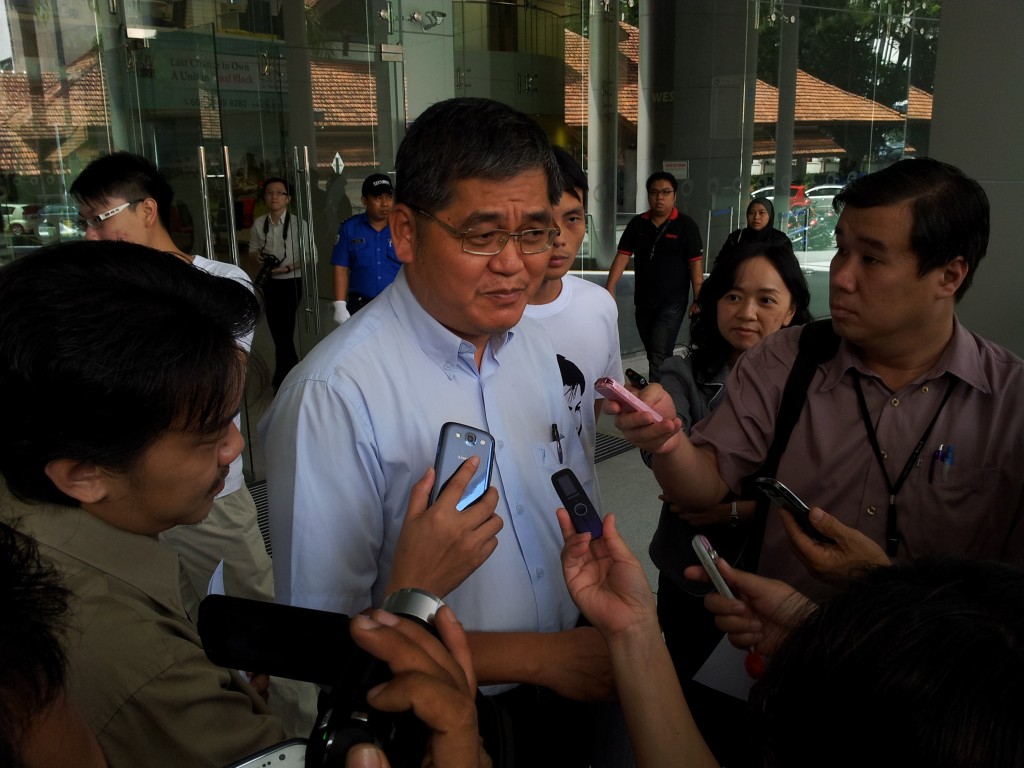 Mr. Lee Hsien Loong
Prime Minister of Singapore
Prime Minister's Office,
Orchard Road
Istana
Singapore 233823
Tel: 623 58577
Fax: 683 56621
Email: [email protected]
through
H.E. Ong Keng Yong, High Commissioner
High Commission of The Republic of Singapore
Level 15, West Wing
The Icon, No.1, Jalan 1/68F
Jalan Tun Razak
50400 Kuala Lumpur
Malaysia
Tel:  +6(03) 2161-6277
Fax:  +6(03) 2161-6343
+6(03) 2163-4875                                                     29th May 2013
Email: [email protected]
Dear Sir,
OUR CONCERN REGARDING THE ACTIONS TAKEN AGAINST 21 MALAYSIAN CITIZEN FOR ALLEGEDLY ILLEGAL ASSEMBLY IN PROTESTING MALAYSIA ELECTORAL FRAUD AT MERLION PARK.
We are writing to protest against the arrest of 21 Malaysian citizen for allegedly illegal assembly in protesting Malaysia electoral fraud at Merlion Park on 11 May 2013, and withdraw two of their work and visit passes in Singapore.
We are disappointed that Singapore as a developed country, but still retain outdated Act which violate to the human rights. The Merlion Park Assembly were peaceful, the participants were express their dissatisfaction and anger against the electoral fraud in Malaysia peacefully. They are not committing crimes, the Singapore government should not impose heavy penalties to them.
Although the circumstances of each country and the laws are different, however, the fundamental of human rights are universally applicable. Freedom of assembly is recognized as a fundamental human right, while many Malaysian citizens in Taiwan, Hong Kong, Australia, United Kingdom, United States, and even China have similar rallies, are fine.
Arrest of participants in assembly by Singapore government also was a clear violation of its signed "ASEAN Human Rights Declaration"1 which
Principles No.2 every person is entitled to the rights and freedoms set forth herein, without distinction of any kind, such as race, gender, age, language, religion, political or other opinion, national or social origin, economic status, birth, disability or other status.
No 23. Every person has the right to freedom of opinion and expression, including freedom to hold opinions without interference and to seek, receive and impart information, whether orally, in writing or through any other medium of that person's choice. And
No 24. Every person has the right to freedom of peaceful assembly.
The Declaration was adopted unanimously by ASEAN members at its November 2012 meeting in Phnom Penh, Cambodia.
On 1st September 2000, Singapore government launched Hong Lim Park as a "free speech area" where speaking events could be held without the need to apply for a license, however it is restrict to the migrant workers.2
The effort of Singapore Government to exercise the freedom of speech and expression and freedom of assembly should not bound to citizen but also include migrant workers as well. Under the Universal Declaration of Human Rights (United Nations 1948), everyone is entitled to the rights and freedoms of expression, freedom of speech and freedom of assembly, without distinction of national or social origin.
We call for all the charges and investigation against the 21 Malaysian to be dropped, as well as restoring one of the Malaysian citizen's work permit. We also call upon the government of Singapore to recognise the Universal Declaration of Human Rights, to respect to the freedom of assembly regardless citizen or migrant workers.
Your Sincerely,
Civil Rights Committee of KL & Selangor Chinese Assembly Hall
Malaysians for Beng Hock
Youth Section of KL & Selangor Chinese Assembly Hall
Sunflower Electoral Reform Movement (SEED)