A group of 20 to 30 activists led by NGO Food Not Bombs (FNB) held a candlelight vigil outside the Myanmar Embassy in Kuala Lumpur to show solidarity with its people suffering brutal repression under a newly installed military dictatorship.
Police were present at the scene and asked the crowd to disperse within 20 minutes.
There were no speeches and a spokesperson from FNB said that he did not have any comment as he viewed it as a silent protest. The protesters were wearing masks and maintained social distancing protocols.
Activist Elise Arya Chen said it was important for Malaysians to show solidarity with those in Myanmar.
"The military regime in Myanmar is very relentless in clamping down on its people and their freedoms. Their moral conscience is very lacking," she said.
Chen added that she had worked with Myanmar refugees in her previous job and was extremely concerned about the situation in Myanmar, where the military has escalated its repression to shooting unarmed protesters.
Liga Rakyat Demokratik general secretary and Malaysian United Democratic Alliance (Muda) co-founder Amir Abdul Hadi said that solidarity and human rights know no borders.
"For our country to move forward, the whole region has to move together.
"People always talk about the influx of migrants and refugees in Malaysia. But they often forget to talk about why they are here.
"We have almost 200,000 refugees from Myanmar alone and they were fleeing awful conditions. The democratic struggle of the Myanmar people will create a conducive and safe environment for the refugees here to return to their birthplace," he said.
"We all must support this," he added.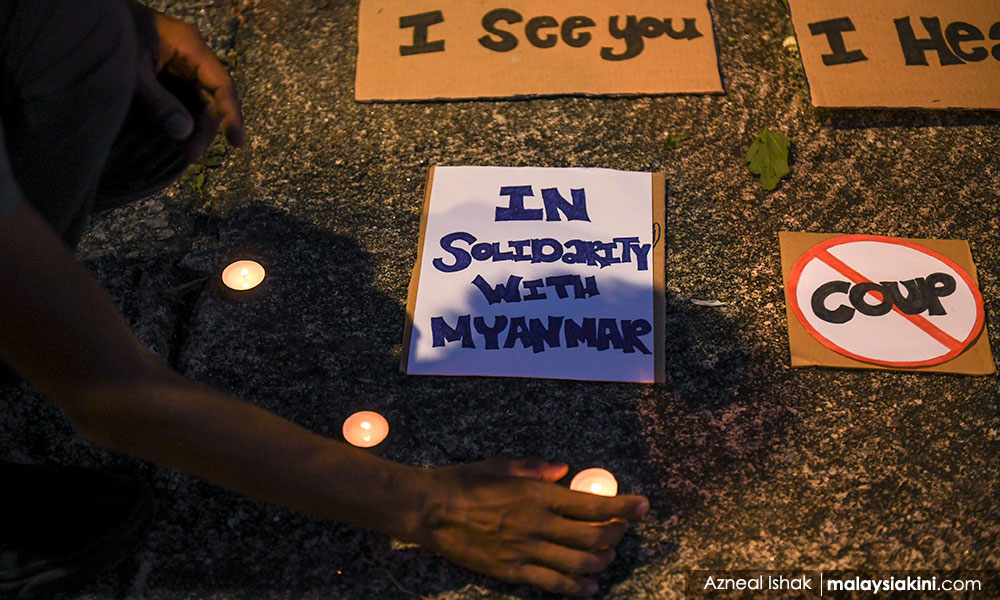 Suaram executive director Sevan Doraisamy said that expressing solidarity with those suffering in Myanmar was the least Malaysians could do.
"They are living under state terrorism, brutal violence carried out by their own military.
"Regional solidarity must go beyond economy and trade ties. We must speak out to defend people who have already suffered so much," he added.
Former University Malaya Association of New Youth (Umany) president Wong Yan Ke was also at the gathering.
"We are seeing the rise of authoritarian governments in the Asean region. In Myanmar, Cambodia, Thailand – in fact, Malaysia has the potential to go into dictatorship too, if we are not vigilant," he said.
Earlier in the afternoon, Kuala Lumpur and Selangor Chinese Assembly Hall (KLSCAH) secretary-general Tan Soon Lim had delivered a letter of protest to the embassy.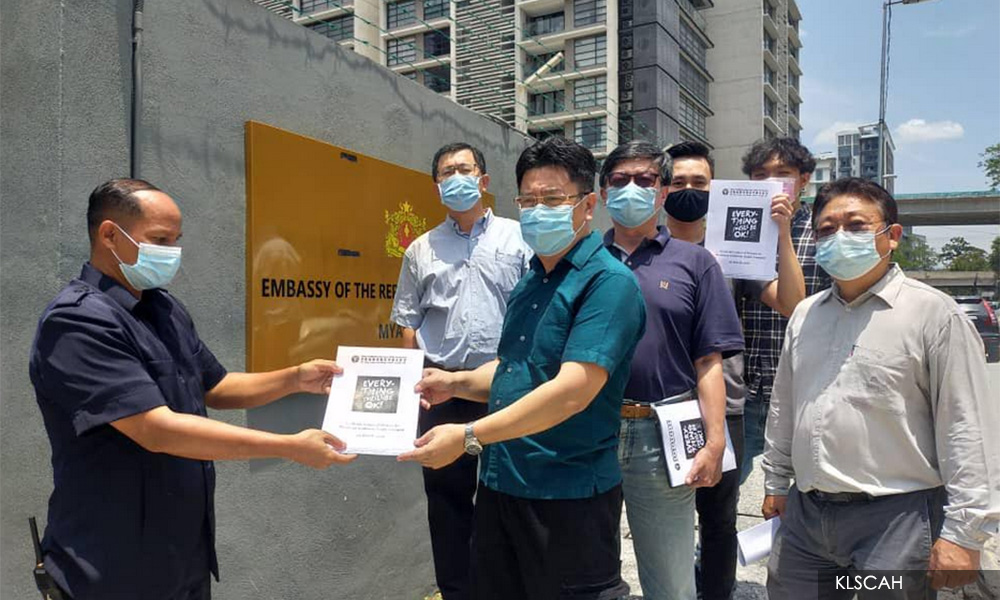 Addressed to Myanmar ambassador U Sein Oo, the letter condemned the ongoing violence in the country.
"The demonstrators in Myanmar are not enemies of the state, but patriotic citizens who love their country.
"The military has no reason to commit such brutal atrocities on its people.
"Life is precious, but freedom is priceless," said the KLSCAH in urging the Myanmar military to resolve the existing political crisis peacefully.
The Myanmar armed forces had overthrown the country's democratically elected government led by Aung San Suu Kyi on Feb 1, and violently suppressed the anti-coup protests that ensued, followed by a crackdown on independent media.
Advocacy group Assistance Association for Political Prisoners said more than 60 protestors have been killed and 1,900 people have been arrested since the coup.
Retrieved from Malaysiakini
https://m.malaysiakini.com/news/566099