Date: 16th December 2013 (Monday)
Time: 7.00 pm (Buffer Dinner provided)
Venue: Auditorium of KLSCAH
Organizer: The Kuala Lumpur and Selangor Chinese Assembly Hall
Media Partner: Malaysiakini, KiniTV
The KL & Selangor Chinese Assembly Hall (KLSCAH) will be having its 4th Civil Society Award ceremony on 16 December 2013, Monday. The NGOs, activists and the public are invited to attend in order to acknowledge individuals and organizations on their contributions to civil society and to open up the democratic space.
The promotion and strengthening of freedom and democracy depend on the growth of civil society. The purpose of the award is to acknowledge individuals and organizations on their contributions to civil society and to open up the democratic space and at the same time encourage such participation by more individuals and organizations.
This award also serves as an evaluation to the civil society organizations and even to the overall performance of civil societies. Besides, we should recognize the importance of civil societies as the third-sector and NGOs are moving our society to be more progressive. We hope that this would encourage the communal organizations to be more open and be more proactive in the public affairs.
Individuals who are Malaysian citizens or organizations in Malaysia are eligible for nomination. The Award is given once a year, which can be conferred on up to three individuals or organizations in no particular order.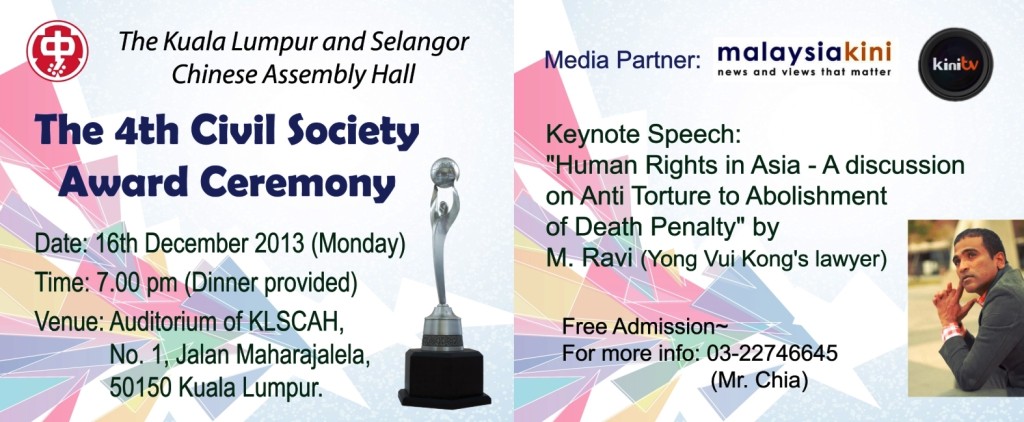 The winner of the civil society award will be announced by the award committee. All nominees will be granted testimonials as recognition and encouragement of their contribution to the civil society while the winner will be awarded RM5000, trophy as well as testimonials. A thematic speech will be delivered at the ceremony as to analyze the concept of civil society and the current situation of the country.
The nominees:
1. Malaysia Youth And Students Democratic Movement, DEMA
2. Mama BERSIH
3. Johor Yellow Flame, JYF
4. Wong Kin Hoong (Ban Cyanide in Gold Mining Action Committee (BCAC) Chairman)
5. Theh Theng Oi (Retired Chinese Association Staff)
6. Sunflower Paper
7. Save Vui Kong Campaign, SKVC
8. Hotel Lok Ann
9. A. Samad Said (National Laureate)
10. Islamic Renaissance Front, IRF
Agenda:
07.00 pm   Registration and dinner
08.00 pm   Promulgation ceremony and speeches
1. Greetings by Tan Yew Sing, KLSCAH President
2. Brief history of the Malaysian civil society
3. "Human Rights in Asia – a discussion on anti torture to abolishment of death penalty", by M. Ravi, Yong Vui Kong's lawyer
4. Prize Ceremony and Judges' note
5. Closing
KLSCAH hopes that this initiative will encourage more individuals and organizations to participate in pushing for social progress and to establish a civil society. The growth of civil society requires participation of all ethnic groups and all segments of the society. We thus invite all to join us in this activity and welcome feedback so that we can move forward to a more open and progressive society.
Should you have further enquiry, please do not hesitate to contact the assistant secretary of the KLSCAH, Chia Wei Loon, 03-2274 6645.