Date: 17th Jan 2022 (Mon)
Time: 8 p.m.
Platform: Facebook
KLSCAH (https://www.facebook.com/klscah)
KLSCAH Women (https://www.facebook.com/KLSCAHWomenSection)
Speakers:
YB Charles Santiago (MP for Klang)
Dr Kalithasan Kailasam (River Care Programme Manager at Global Environment Centre (GEC), Community-based flood preparedness, esp. towards flood-resilience communities)
Dr Renard Siew (Climate Change Expert, Centre For Governance and Political Studies, CENT-GPS)
Moderator: Yi Yi Soo Hoo (Assistant Secretary at KLSCAH)
Organiser: KLSCAH Women
Introduction:
Since mid-December 2021, the flood crisis in Malaysia has affected thousands of livelihoods. States heavily hit by mass floods – Pahang, Negeri Sembilan, Sabah, Melaka, Selangor and Terengganu – have displaced an estimate of 40,000 people from their own homes. Not only inconveniences were caused to daily routes (such as highway closures and roadblocks), many families were devastated to lose their homes, cars and precious belongings. For some families, they've even lost loved ones to the heavy floods.
In the fray of the ongoing Covid-19 pandemic, Prime Minister (PM) Dato' Seri Ismail Sabri has called for a special Parliament sitting on Jan 20, to discuss the flood crisis, especially on post-flood management, aid coordination and long-term planning for flood mitigation.
With the imminent rise of climate-related disasters, many experts are zooming into the disaster management systems that are holding our nation's fragile infrastructures by a thread. Whilst many of our MPs are on-site in hard-hit districts (such as Temerloh and Hulu Langat) to help those in need, many people are wondering whether there should be more efficient measures – especially on a strategic level – of deploying resources.
Viewers are encouraged to support KLSCAH's continuous efforts in more substantive webinars moving forward. For those interested, kindly use your e-wallet app (i.e. Touch n Go, Grab, Boost etc.) to scan the QR code shown. Or, you can transfer to the The Kuala Lumpur And Selangor Chinese Assembly Hall (Bank Account No: 3077340127; Public Bank). Please send a copy of the transaction receipt to the Secretariat of KLSCAH as proof through WhatsApp at 012-2933410 (Mr Loh).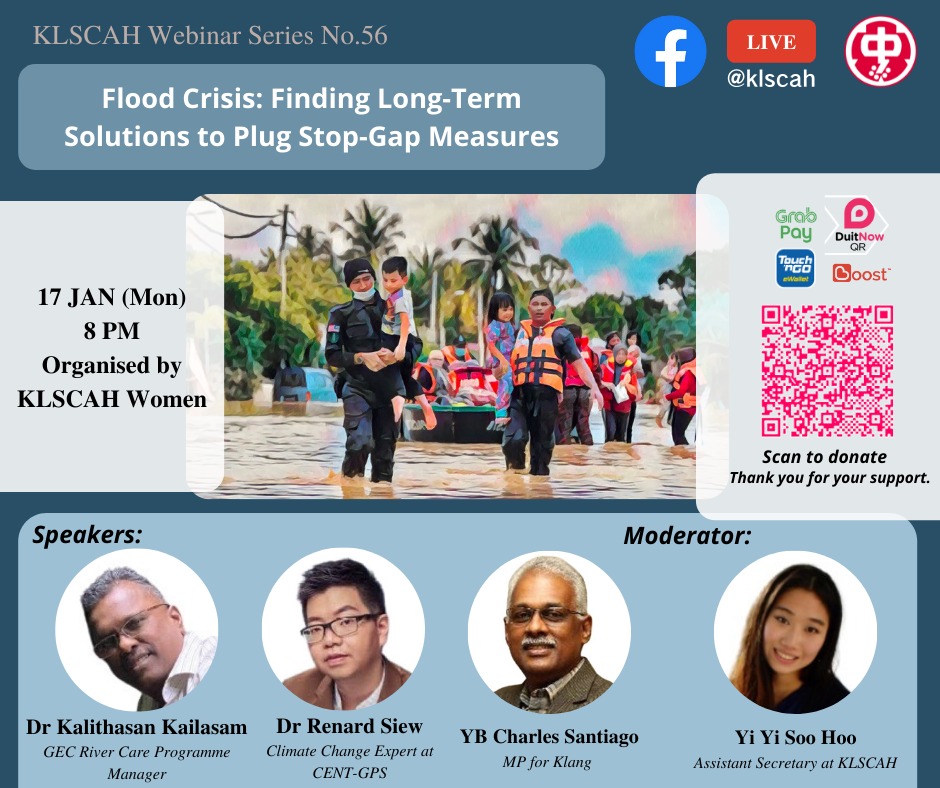 Click Here to watch webinar