Date: 1 March 2021 (Monday)
Time: 8pm
Streaming Platform: KLSCAH Facebook Live (https://www.facebook.com/klscah/)
Speakers:
MP Sivarasa Rasiah – Senior Lawyer, Former Deputy Minister of Rural Development, MP for Sungai Buloh
Steven Gan – Editor-in-Chief of Malaysiakini
Wathshlah G. Naidu – Executive Director of the Centre For Independent Journalism (CIJ)
Moderator: Yi Yi Soo Hoo – Assistant Secretary at KLSCAH
Organiser: The Kuala Lumpur and Selangor Chinese Assembly Hall (KLSCAH)
Introduction:
It is a tense period for media freedom in the country, when Malaysiakini was found guilty and fined RM500,000 for contempt by the Federal Court on Feb 19.
In commercial terms, contempt of court can be defined as a lack of respect for the law. When charged with contempt, the judge can deem the defendant with obstruction, interference, or any acts of disobedience against a judicial system.
Malaysiakini is fined for five comments posted on one of its website articles published on June 9, 2020. The 21-year old news outlet is charged with failure for the monitoring of its online comments. In this particular case, the comments were inferred to threaten public confidence in the judiciary.
Malaysiakini is one of the few news portals in the nation that retains a comments section on their website. Many news outlets, such as The Star, Malay Mail, Sin Chew etc., already omitted the comments section from their websites. Some have replaced them with the emoji reactions functionality or shifted the conversations to social media. Based on the case of Malaysiakini, will Section 114A of the Evidence Act 1950 be applicable (i.e. in the event of libel happening on social media pages)?
In the current COVID-19 pandemic, the public's reliance on online media has risen sharply. With conversations taking place online, Malaysiakini is an established platform for discussions on public issues, a rarity in a nation requiring critical stances to challenge governing bodies.
Audiences are encouraged to support KLSCAH's continuous effort to organise more webinars moving forward. Any contributions can be made to The Kuala Lumpur And Selangor Chinese Assembly Hall (Bank Account No: 3077340127; Public Bank), and send a copy of the transaction receipt to the Secretariat of KLSCAH as proof through WhatsApp at 012-2933410 (Mr Loh).
Check out our refreshed multilingual website for more info on KLSCAH today:
https://klscah.org.my/en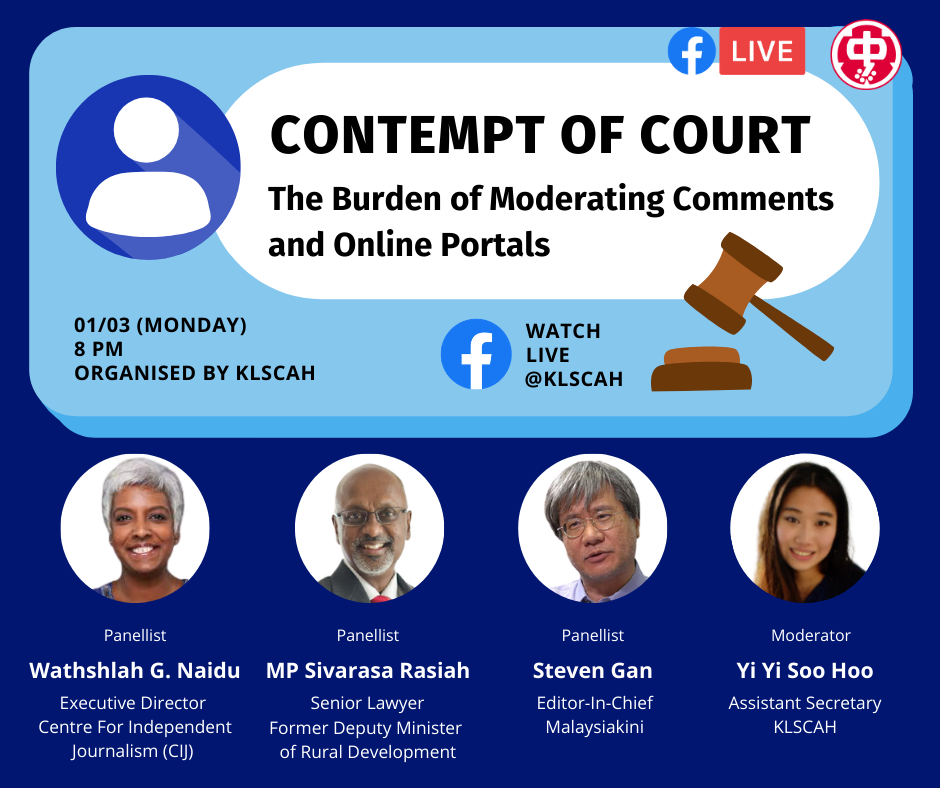 CLICK HERE TO WATCH WEBINAR