The promotion and strengthening of freedom and democracy depend on the growth of civil society. The purpose of The Civil Society Award is to acknowledge individuals and organizations on their contributions to civil society and to open up the democratic space and at the same time encourage such participation by more individuals and organizations.
The KL & Selangor Chinese Assembly Hall (KLSCAH) held its 3rd Civil Society Award ceremony on 12th December 2011. The winners go to BERSIH 2.0, Save Malaysia, Stop Lynas Committee & Pusat KOMAS. They are awarded RM5000, trophy as well as testimonials, encourage them to stick to the role of expanding freedom and democracy of the social space.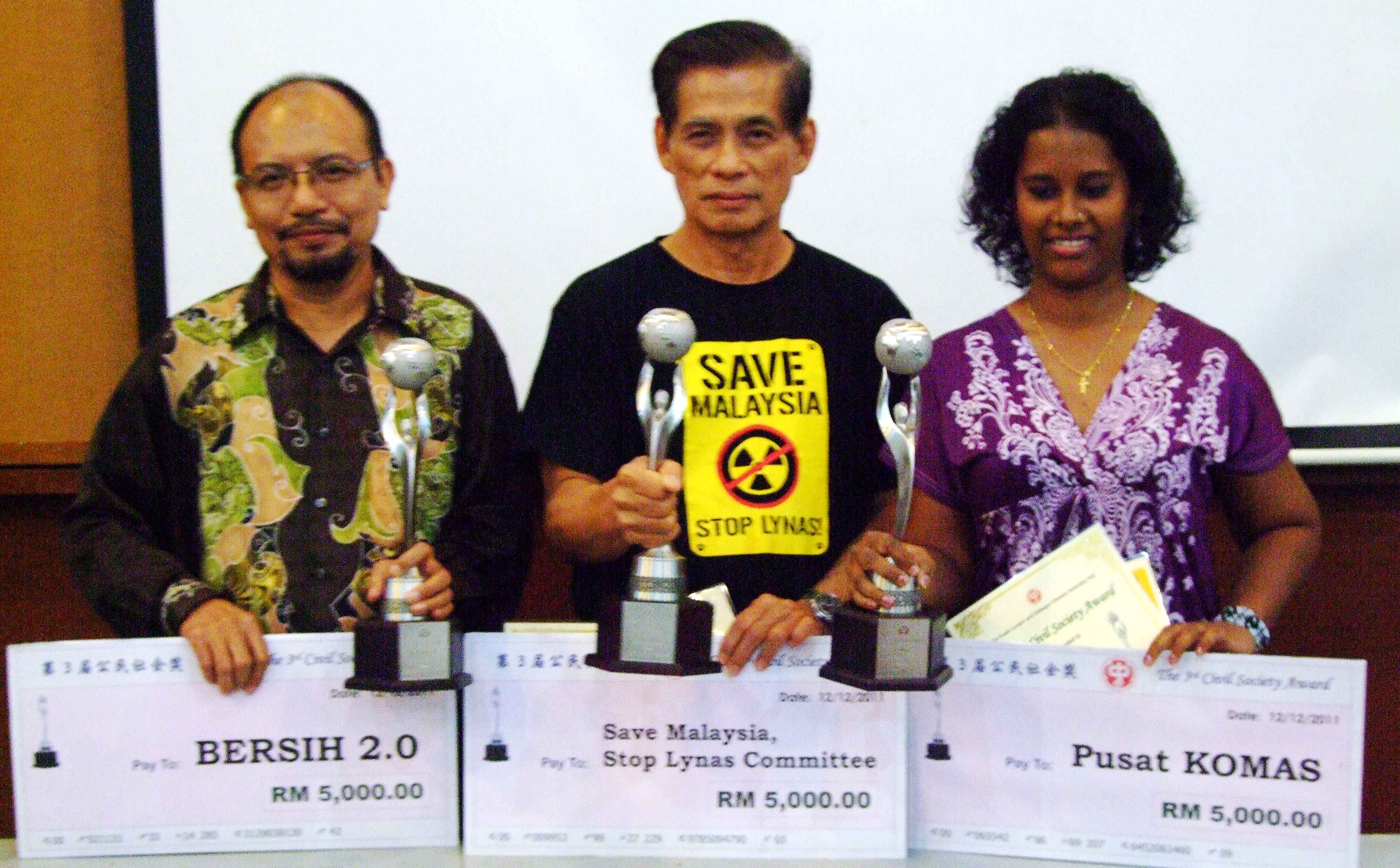 Award Committee Chairman cum Vice President of KLSCAH, Mr. Ser Choon Ing said that, since the 1990s KLSCAH set up to build a strong civil society. This is because a civil society can achieve the checks and balances on government's role. A stronger civil society can ensure the people's human rights and freedoms are protected.
Besides of screening the slideshow of "A Short History of Civil Society in Malaysia", the Chairman of Malaysian Bar Council's Constitutional Law Committee, Mr. Edmund Bon is invited to give a talk on "My Consti and The Challenges We Face".
Associate Professor of Law Faculty of UM, Mr. Azmi Sharom represented the Selection Committee to introduce the award and the nominees, further to explain the accreditation process. Other selection committee members include: P. Ramakrishnan (President of ALIRAN), Syed Ibrahim Syed Noh (President of GMI), Che Shamsudin Othman (President of Seniman Paksi Rakyat M'sia, PAKSI),  Hishammudin Rais (Veteran Writer, Art Worker), Yong Yew Wei (Secretary General of KLSCAH), Yong Kai Ping (Editor of Malaysiakini Chinese Version).
The nominees for The 3rd Civil Society Award are: Chou Z Lam (Founder of Peoples Documentary Foundation), EMPOWER, Pusat KOMAS, National Interlok Action Team (NIAT), BERSIH 2.0, NH Chan(Former Appeal Court Judge), Lee Chor Seng (Former Chairman of Counselor of Sg. Buloh Leprosy Settlement), Tan Hing (Chairman of Counselor of Sg. Buloh Leprosy Settlement), Ong Boon Keong (Malaysian Election Observation Network Coordinator), Save Malaysia, Stop Lynas Committee. All nominees are awarded a certificate to encourage them in defending freedom of political participation and fighting for greater space for social freedom and democracy.
There are around 100 people who attended the ceremony, including members of the selection committee, Vice President of KLSCAH Madam Cheng Su Chean, Chairman of Civil Rights Committee KLSCAH Mr. Liau Kok Fah, Chairman of Cultural & Educational Committee Miss Jean Lee, nominees, NGO representatives, media and public.
Impression of the Winners
Coordinator of Pusat KOMAS, Lena Hendry: Pusat KOMAS contributed to the cause of human rights through the Freedom Film Festival and have spread the message to thousands of people through the use of social films and film making. This helped to create a better future by working with the youth of today.
Coordiantor of BERSIH 2.0, Zaid Kamaruddin: This award should be awarded to all Malaysians who poured into Kuala Lumpur on 9th July, to appeal a clean and fair elections! The event proved that there is a tomorrow for Malaysia, as long as the people across the country willing to unite, fight for their rights.
Chairman of Save Malaysia, Stop Lynas Committee, Tan Boon Teet:Our members come from all walks of life, among them are elderly, children. We do not have experience to against the big companies, but we decided to stand up and fight.