2011 Love In Action 3 in 1
Blood Screeening, Blood Donation, Free Medical Consultation
Date: 30th October 2011 (Sunday)
Time: 9:00am to 4:00pm
Venue: Main Hall of Confucian Private Secondary School, Kuala Lumpur.
Since the launching of "LOVE IN ACTION 3 in 1" in 1999, this campaign has been well received by the public. This campaign is jointly organized by the Chinese Annual Conference of Methodist Church in Malaysia, The Kuala Lumpur & Selangor Chinese Assembly Hall and the Confucian Private Secondary School, is geared to strike again this year.
The objectives of the campaign are:
1.To create public awareness on the necessity of blood supply to the patients in need.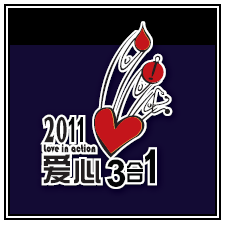 2.To remind the public of the importance of health and personal health care.
3.To promote the practice of "loving neighbors as ourselves" in our society.
Blood Donation
You must be atleast 18 year of age or above, physically healthy and the last blood donation was more than 3 months ago.
Blood Test
BP healthcare Group is offering a whole package of 63 tests (inclusive of AFP, CEA, HIV & ECG) at a special offer rate of RM100, the normal price is RM270. Please purchase a blood test coupon to enjoy this offer.
Free Medical Check Up
We have qualified medical doctors and Chinese physicians to provide free medical check-up and consultation.
Service Line:
CAC Methodist Church Chinese In Malaysia : (03)20263113/20702501
The Kuala Lumpur & Selangor Chinese Assembly Hall : (03)22746645 (Ext: Mr.Hue)
Confucian Private Secondary School : (03)20106321/20261086/20261087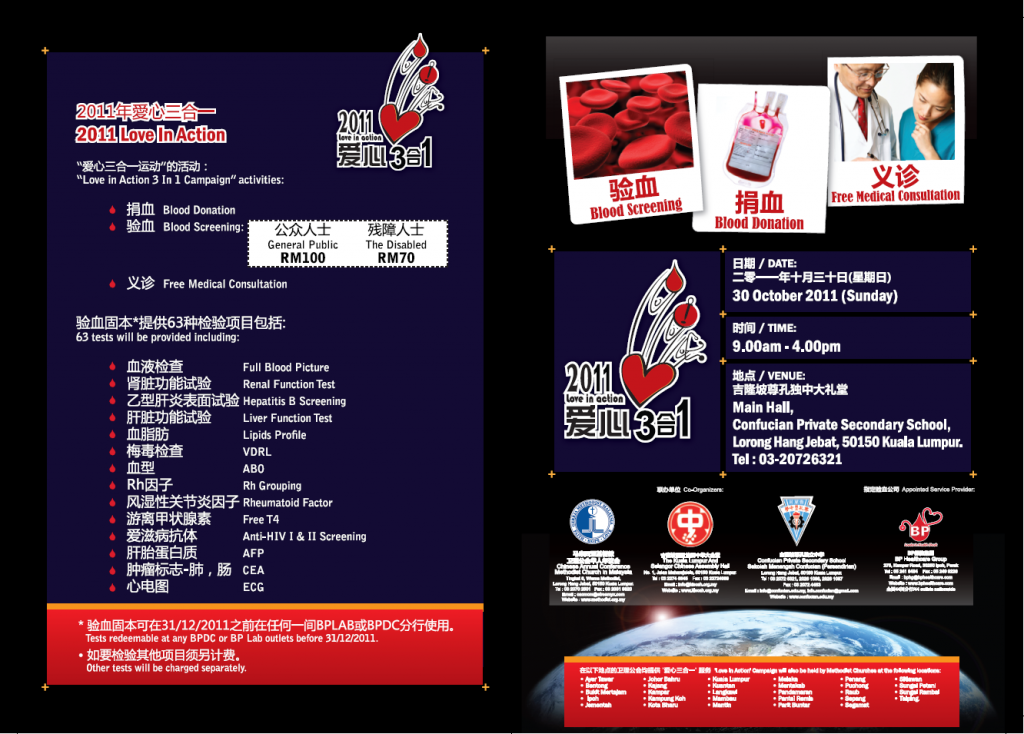 2011